POSTED BY PATPEREZGOLF.COM
PGA Tour veteran Pat Perez and swing coach Drew Steckel crossed paths last October and it was a perfect fit from the get-go. Steckel teaches Perez, as well as fellow Callaway Golf staff pro Danny Lee and the affable Jason Gore. We caught up with "Stecks" (a nickname the legendary Steve Elkington bestowed upon him) Sunday afternoon as Perez was en route to Scotland for The Dunhill and Lee was wrapping the TOUR Championship T3, finishing 9th in the final FedExCup standings. Below is Part One of our sit-down with the PGA Tour's fastest-rising coach and look out for Part Two on Tuesday:
PatPerezGolf: Congratulations on a banner year with your three Tour pros; Pat Perez, Danny Lee and Jason Gore. All have had standout moments this season. Since this is an interview for PatPerezGolf.com, would you mind talking about the highlights of Pat's season this far?
Drew Steckel: The biggest highlight of Pat's season was his overall consistency. He's always been a very good west coast player and we got him in contention in tournaments outside of February this season, which made for a big improvement in his psyche as the year went on. Pat always starts out the year hot and then tends to regress a bit; where he doesn't always have the most-consistent Florida, Midwest, or end of the year run, going into the Playoffs season. That wasn't the case this year and it's something we can build on this fall.
PatPerezGolf: What do you think has changed? The west coast stuff makes sense, but why is the Florida swing or Midwest such a wildcard? What is your process and how do you reverse-engineer this pattern when it's been going fourteen seasons strong? Drew Steckel: Keeping him focused week in and week out, while not letting him get sidetracked with distractions or getting comfortable and complacent. We've been working on keeping him focused on the bigger picture. Pat wants to win golf tournaments. He doesn't want to settle for Top Tens. He wants to play majors. He's gotten to a point in his career where it's very apparent that he doesn't want to to be average anymore.
PatPerezGolf: Anything specific that has happened between you two that has helped knock those barriers down?
Drew Steckel: I think Pat not being afraid of success is a huge part of it—and letting him know how good he is as well as how good he can be. The potential has always been there and if anything he's been an underachiever, at times. Sometimes you just need to be pushed. Whether he's getting the results he wants right now, he just needs to keep working and pushing forward with what he has to do. If he needs someone to push him every day and to motivate him, he's going to have someone there—because that's a big part of what I do. Finishing 25th or 30th; it's not acceptable in my book, nor should it be acceptable in his.
PatPerezGolf: You seem to have a very no-nonsene approach with your players and the mental part of the game seems very important to you. Can you explain your approach in regards to balancing the mechanics required to succeed on Tour, as well as how you get your players mentally ready for the week-to-week grind?
Drew Steckel: I think the mechanics side is really the easy part. Once you get them to understand the pattern and the things they do—and then communicating in simple terms what they need to do—then you get them thinking; How am I gonna score? How am I gonna compete in play? How am I gonna win? How am I gonna get into the Top Ten? What am I gonna do to get better in areas where I don't necessarily do well? What do I need to do and how should I practice to improve in those areas? Giving the guys a game plan and getting them in the mindset where there saying, This is how I'm going to play my best this week. This is what I brought to the tournament this week. Let's go out and play. Let's find a way to get it done and go from there. See what happens. Striving for the mechanics to be perfect; it's something that's always going on, but my job is to get them in a weekly mindset that their good is good enough to compete out here. Get them to a place where they don't mentally quit; where one bad shot can ruin a tournament or a bad shot or bad thought takes over and dictates their next three holes. Let's bounce back. Let's find a way to get the ball out of trouble. Let's get past a bad putt and move on from it.
PatPerezGolf: Specifically what have you been working on with Pat? We know you two first crossed paths last year in Las Vegas—after Pat had a blazing start to the season, but faltered down the stretch. What did you do to get Pat back on track (so quickly)? Pat's mentioned you guys getting back to basics. Can you explain specifically what that entailed?
Drew Steckel: The main thing with Pat and getting back to basics was explaining things in a simple way. Golf instruction can be a very complex thing and the way we communicate seems to fit with how he learns and his overall learning style. We started deprogramming his brain a bit; getting him back to being that natural player he is. Pat is very instinctual, opposed to an in-tune, mechanical kind of guy—so the focus is on getting him to have a simple feel, or a simple thought with some simple things to work on. It's allowed him to grasp it and take ownership of it, which allows him to go out to the course with a true confidence in what he's doing. If he has any doubt or questions—where he sort of understands it, but really doesn't—he's not going to have ownership and he's not going to play well.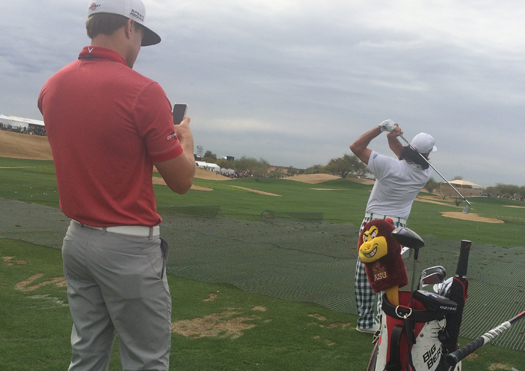 (Look out for Part Two with Drew on Tuesday afternoon where he'll discuss Perez's biggest strength, the tournament where things went next-level this season, life on the road as well as tips for amateurs looking to identify a swing coach and strategy for their overall game.)
See more at:
http://patperezgolf.com/pga-tour-swing-coach-drew-steckel-pat-perez-danny-lee-callaway-golf-jason-gore-fedexcup-playoffs/#sthash.RPsUtR8c.dpuf