POSTED BY PATPEREZGOLF.COM
We interviewed PGA Tour swing coach Drew Steckel over the weekend and thanks to some solid, in-depth answers, we wound up stretching the piece into two separate articles.
Steckel has been working with Perez since last October when crossing paths at TPC Summerlin and have been a solid team ever since. Steckel also works with Tour pros Danny Lee and Jason Gore, who are also coming off of banner years—Lee reaching last week's TOUR Championship and rattling off a third-place finish, vaunting him to ninth in the final standings.
For those who missed Part One, give it a read. For those who are already invested in the story, here's Part 2 with "Stecks".
PatPerezGolf: Is there any one aspect of Pat's game that you saw last fall in Las Vegas and knew you needed to work on immediately—something that was off and not in line with the type of player he is?
Drew Steckel: Pat's ball-striking had gotten so far off the map for him. Throughout his career he'd been such a consistent ball-striker and to get to that place of inconsistency, where he didn't know where the ball was going—that had become a problem we had to address immediately.
Once we got that under control again—one of those fall events after Vegas; Malaysia or Mayakoba—he started to see the light at the end of the tunnel and started gaining momentum by the end of the year.
By the time the west coast swing rolled around, he was really close to being back and quickly regained his form.
PatPerezGolf: Do you have any examples this season where you saw things come to fruition for Pat; where the physical and mental all jelled and he found that zone that it takes to compete and win?
Drew Steckel: When he was in contention at THE PLAYERS and he led in fairways hit, distances of misses of missed fairways and greens-in-regulation—for the week.
Going into the final round he statistically had the highest chance of winning that golf tournament of anybody in the field because he had so much control over his golf ball and how he played tee-to-green.
Even the commentators acknowledged that this was a super-rare statistic—very few people who lead in these statistics not going on to win this golf tournament.
For Pat, leading in those categories for the week at a course like TPC Sawgrass—Stadium Course—was a huge thing for him. Knowing that he'd played very, very well on that stage and under those circumstances; it was great for him.
(Editor's Note: Perez finished T17 after a Sunday round of 73, going 71-70-68 the three days prior.) 
PatPerezGolf: We have a lot of amateur golfers that read this site, as well as those who dream of competing at the highest level and are working to achieve that goal. You probably get this question all the time, but God-given talent aside, what are the most important aspects and traits for those working towards a PGA Tour card?
Drew Steckel: Finding the right instructor for you—finding the right fit—and then getting a plan with your instructor, having goals and mapping out those goals.
There's a lot of different variety to choose from, but having a laid-out play and having that structure, goals, statistics, charting yourself and seeing how you're progressing—is the best course.
If you don't have anything to measure what you're doing—where you're going and where you want to be—you're just floating with the wind. There needs to be a structure and mapped-out agenda to go along with the practice efforts being made.
PatPerezGolf: Have you done the math regarding how much time you've spent on the road and how many events you've been at this season? With three players seemingly playing every week, you must be constantly living out of a suitcase, no?
Drew Steckel: I've missed four events this year; Malaysia, The Masters, the Honda Classic and the WGC Match Play. Those are the only events I haven't worked over the past twelve months—and as long as the guys want to put in the work, I'd do it all over again and will be at every event, if that's what's needed.
My attitude is consistent and all three of them can tell you the same thing. If any of them want to workout after a round and hit the gym—great, let's get after it.
I may not want to go to to the gym, but I'll be there to help any of them if that's what they want to do. I'm there. Any of them want to go to the range for a few hours after the round? Even better. Let's go.
I want it for them as bad as they want it for themselves. There is no greater feeling for me as a coach than watching Pat, Danny and Jason succeed. It's not about the money; it's the feeling I get knowing that my guys—they've worked for it and knowing that I was a part of it—that's everything to me.
PatPerezGolf: Any other thoughts or things to share as the 2014-2015 PGA Tour season comes to a close—and what are your goals for next season; personally, as well as for your players?
Drew Steckel: Personally, I'd like to keep all three of them on the same track. Each of them has their own uphill climb regarding what it will take to get better.
As far as Pat goes, I want him on an consistent workout routine this offseason—carrying over into 2016—as well as a consistent practice routine. I also want to see him playing golf courses that are more suitable to his strengths; laying out next year's schedule this winter and making sure he's tailoring the season's events in a manner that best suits his game.
Play the Dunhill like he is this week. Play the Frys.com Open when he gets back. Play Vegas. Play Malaysia. Play Sea Island. Play Mayakoba.
Get five events under his belt before the new year starts. Get half a million to a million dollars in the bank before the Sony even rolls around.
Go into the west coast swing with that mentality that he's already kept his card, allowing a more aggressive approach and a mindset that he's playing to win.
PatPerezGolf: Thank you for your time Drew, and congrats on a stellar season with all three of your guys.
Drew Steckel: You're welcome. Great to catch up and looking forward to doing it again.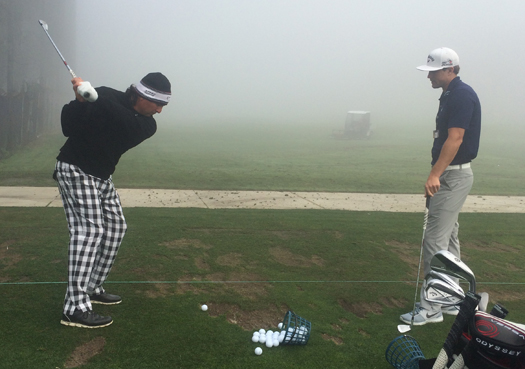 – See more at:
http://patperezgolf.com/pga-tour-golf-swing-coach-drew-steckel-pat-perez-callaway-golf-danny-lee-jason-gore-fedexcup-playoffs/#sthash.euwDGhxg.dpuf