Pat Perez was birdie-happy again at El Camaleon on Friday at the OHL Classic at Mayakoba, but three bogeys and two doubles a derailed a would-be second round that could've rivaled Perez's opening round 66.
Perez carded six birdies on Thursday, only giving one back with bogey on the par-four fifteenth. Friday's round proved to be the opposite, with Perez struggling early, scrapping back late and putting together a respectable round of 73, despite giving seven strokes back.
Starting on the par-three tenth, Perez went par-par out the gate, before bogeying the par-four twelfth. After birdying the par-five thirteenth, Perez was back to even, but notched two double bogeys in a three-hole span—fourteen and sixteen; both par-fours.
Perez regrouped with three consecutive pars before picking up four birdies over the next five holes, taking the scenic route back to even on the day. From there, a bogey-par-bogy finish got it back to two-over and a 73 was in the books.
As for the seven-stroke differential between rounds—part of the process when working to undo old habits, while implementing new ones. Swing coach Drew Steckel chimed in regarding what he and Perez have been working on and will continue with this off-season.
"The main thing we're working on with Pat is not opening the face in his backswing, while laying the club off at the top of his swing. When he lays the shaft off, he steepens the plan and opens the face.
As for the bigger picture, Steckel explained, "We're getting Pat refocused on playing golf and being a competitor. Working on and being picky about his swing—it has a time and place. Right now he's clearing his head and focusing on all those positives that making him a great player."
With the cut-line hovering at three-under, Perez is right on the number and T59th with just over a dozen competitors remaining on the course around 4:00 p.m. local time—assuring him of seeing the weekend at El Camaleon and giving him 36 more holes and some necessary range time to continue working out the kinks with Steckel.
Saturday's tee times will be announced shortly. Tune into PatPerezGolf.com for all this weekend's coverage.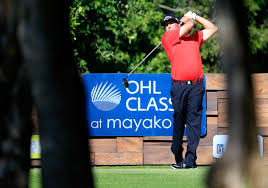 (Update: Third round tee times have been announced and Perez will go off No. 10 at 10:35 a.m. local, paired with Spencer Levin and Freddie Jacobsen.)
– See more at: http://patperezgolf.com/pga-tour-ohl-classic-mayakoba-el-camaleon-playa-del-carmen-second-round-scorebard-leaderboard/#sthash.qdS6ddJ6.dpuf